Discover Europe in comfort and style.
Everything is provided for the ideal holiday for a family of 4 or 5.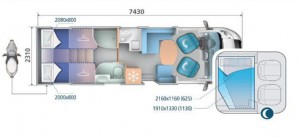 The layout is compact but spacious.  Due to the low profile, the camper van is comfortable to drive and very economical.
The Fiat Ducato motor delivers enough power to cruise to your destination.  But if you don't want to drive it all in one go, no problem.  Just stop, relax, watch TV for a while, then go to sleep and continue your journey in the morning.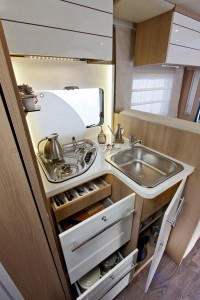 During the day the double bed is elevated above the dining area. The driver and passenger seats can be rotated to face the table.  There is a large refrigerator and freezer and a three gas cooking area.  If the weather is not so nice, everyone can comfortably eat at the table.  But if it's warm, open the awning, unfold the chairs, set up the table and enjoy eating out in the open air.
At night, the double bed can be lowered and comfortably sleeps two people.  There are a further three sleeping places.
For privacy and comfort, the toilet and shower cabin are separate.  There is a large reservoir of warm water.
In winter, there is also a heating system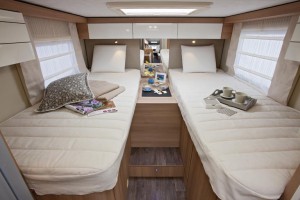 The camper van is rented with full kitchen equipment, such as cutlery, plates, cups, pots and pans. In fact all you require, except food!
Camping table and chairs are also provided to enjoy eating al fresco.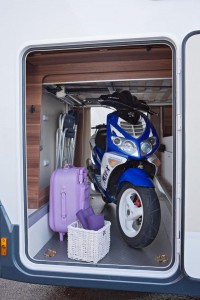 There is plenty of storage space inside the camper van and plenty of storage space in the "garage" at the rear of the vehicle.  You could use this for a small scooter or bulky items, such as the camping table.  There is a bike rack on the back of the camper van with space for 3 bikes, but if you want to take more, you could fit 2 in the garage..
Whether you want to relax, engage in activities or visit family and friends – or combine all three, a camper van gives you the freedom!
Call me for a visit, even on Sundays! GSM – 0496 309 895.